In South Louisiana, we work hard and party harder! At Drip IV Therapies, we provide a great preventive or reactive service for hangovers. Keep reading to learn about how you can get a discount on our Hangover Drip!
WHY DRIP FOR HANGOVERS?
It's no secret that hangovers can be harsh! They are caused by the dehydration and nutrient depletion caused by excessive alcohol consumption. The end result is a list of symptoms that can be devitalizing. These symptom include dehydration, nausea, headaches, muscle aches, or an upset stomach. Without proper or rapid treatment, these symptoms can last for hours.
Our Hangover Drip will return those essential minerals, vitamins, and electrolytes to your body restoring your energy faster and maybe even better than before that night on the town.
Partnership WITH CB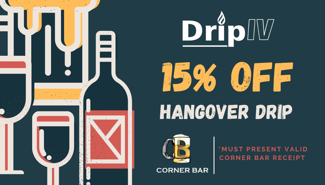 We are proud to partner with your favorite local spot, Corner Bar! At Corner Bar, you're greeted by professional, friendly bartenders and staff along with other great customers. Drop by and join the locals, pass a good time, and keep your receipt! Bring your Corner Bar receipt to Drip IV Therapies and get a discount on your next Hangover drip!
Laissez Le Bon Temps Rouler!
Speaking of hangovers...
Bourbon enthusiasts, I'm talking to you! Visit our friends at Cajun Creole Market to shop a local, Lafayette brand, Sirop de Saizon, now offered on their online, nation-wide store! Sirop de Saizon is not just any old simple syrup. Pair your favorite bourbon with this twist on a classic cocktail mixer and you will never go back to an old-fashioned without it. Check them out!
quick recovery
Drip IV's Hangover treatment is a quick and effective method to quickly combat hangover symptoms in less than an hour. This treatment restores nutrients lost, rehydrates your body, flushes out toxins, and cleanses your system. Our formula includes anti-nausea and anti-inflammatory medications to provide fast relief.
Our IV Therapy treatment will get you back on your feet quickly!
Not Just for Hangovers
Our Hangover IV is not just for people that overdid it the night before! If you're feeling jet-lagged, overworked, or stressed, this drip is a great solution!
BUT WAIT, THERE'S MORE!
Check out all the other IV therapy options we offer and ask us about our IV infusion add-ons!
Contact us
Let us help you on your journey to optimal health! Contact us to learn more about what we have to offer.
---

We are an a leader in the delivery of intravenous micro-nutrient therapies.
We Provide Effective Treatment and IV nutrition therapies for NAD+, Energy Boost, Hydration, Immunity, Performance & Recovery and Hangover Remedy.