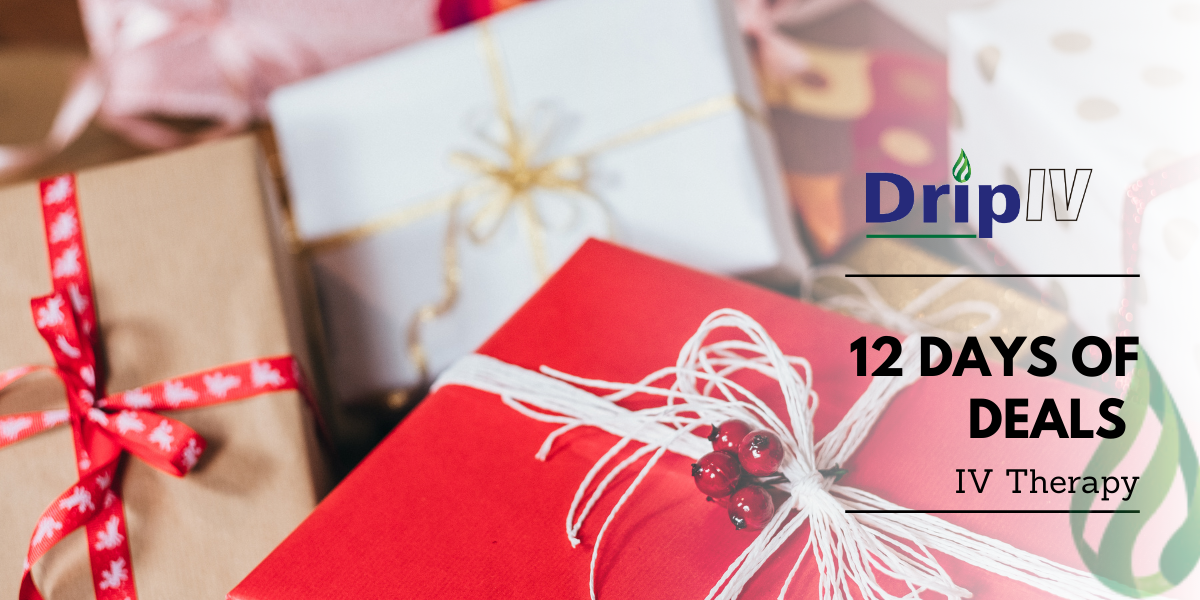 It's that time of year again between Black Friday and Christmas when everyone is looking for a deal. As such, we've carried on our annual tradition -12 Days of Deals. Check out what we're offering this year!
Our Giveaway
Starting Saturday, December 12th, we're kicking off our 12 days until Christmas Eve! The holiday spirit is about giving and celebrating the season. Everyone has a little extra skip in their step and larger smile on their face.
To make that joyful experience that much more special, see below for what new deals we're offering. And guess what? Every deal you participate in, you'll be counted in our drawing to win the final giveaway - a FREE drip! So if you get three deals, that's three times the chance to win!
A Deal a Day
Check out each of the deals we're offering!
Day 12 - Saturday: 1/2 off B12 shots
Day 11 - Sunday: $11 off Vitamin D injection
Day 10 - Monday: 10% off Hangover infusions
Day 9 - Tuesday: Free Tri-Immune injection
Day 8 - Wednesday: Buy 8 weight loss injections & get 4 free
Day 7 - Thursday: $70 off Lux Beauty drip
Day 6 - Friday: Free add-on to any drip
Day 5 - Saturday: 50% off an energy drip
Day 4 - Sunday: 40% off any drip
Day 3 - Monday: Buy 2 drips & get 1 free
Day 2 - Tuesday: 20% off any mg NAD+ injection
Day 1 - CHRISTMAS EVE: Free drip giveaway!
Join in our celebration
Book your appointment today or connect with us to get your countdown deal!
Want to give the gift of drip? Purchase one of our e-giftcards!
---

We are an a leader in the delivery of intravenous micro-nutrient therapies.
We Provide Effective Treatment and IV nutrition therapies for NAD+, Energy Boost, Hydration, Immunity, Performance & Recovery and Hangover Remedy.