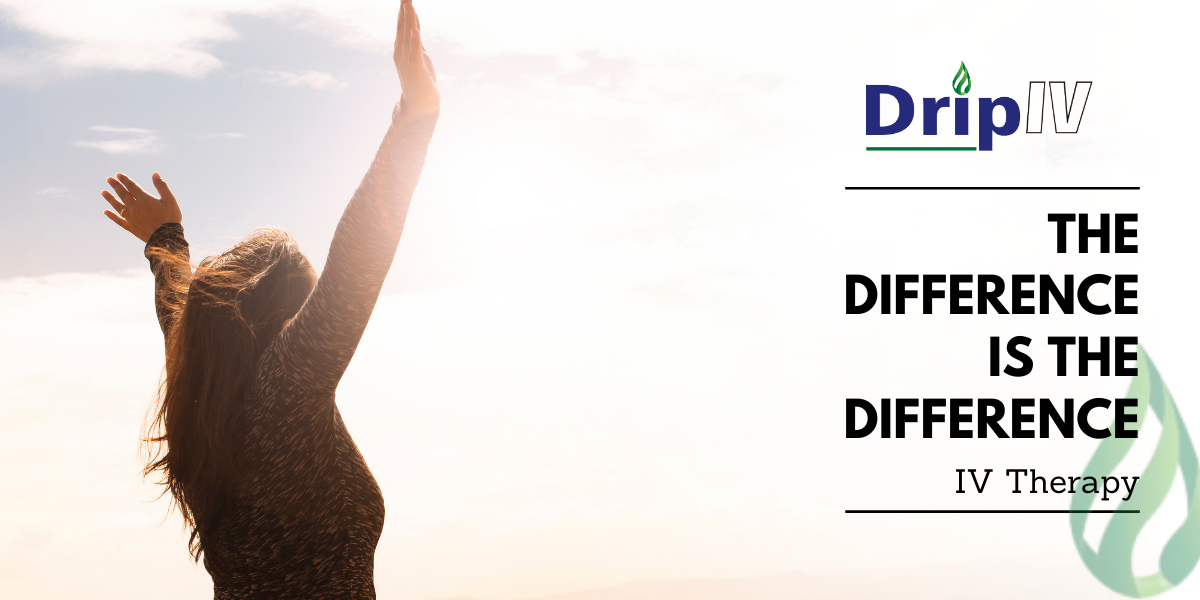 IV Therapy has traditionally been used in medical settings to aid symptoms in dehydration or nutrient absorption conditions. Recently, IV Therapy has become a more popular option for receiving vitamins to bring you to ultimate wellness. Keep reading for more information on why the difference is the difference.
The Difference
Why choose IV Therapy if you can take your vitamins orally? Why is it beneficial?
In short, when you take in vitamins by mouth, you usually don't receive all the benefits. IV Vitamin infusions deliver 100% of vitamins into your bloodstream giving you a much higher concentration of vitamins than you can ever get via oral intake.
WHAT IS IV THERAPY?
IV vitamin infusions work by delivering potent blends of vitamins, minerals, antioxidants and nutrients via an IV line into a vein in your arm.
The process is safe, fast and easy. You will go through a quick exam and interview, performed by one of our healthcare professionals. This will help us better understand your medical history, take vital signs, and perform an assessment. Upon completion, all you have to do is hold out your arm!
A customized drip of IV vitamin therapy for treatment of your symptoms will be created by our healthcare specialist. Our administering professional will monitor you to make sure the IV drip is flowing at the correct rate through the duration of your infusion. The entire process can take somewhere between 30 minutes to an hour.
BENEFITS
To achieve optimal health, hydration and nutrient levels are key! Using IV treatments can optimize your overall health and wellness.
Additionally, IV Therapy can also:
HOW DOES IT WORK?
Here's a quick rundown on how it works:
With IV Therapy, nutrients bypass the entire digestive system including your liver. This eliminates worry of the breakdown, digestion and absorption of food, because the nutrients are administered directly into your blood.

Blood and Tissue concentration of vitamins is far higher with IV Therapy than can be achieved by oral consumption.

IV Therapy can deliver vitamins, minerals, amino acids, and more directly to all cells.

With IV Therapy, your cells are temporarily and safely flooded with a vast supply of nutrients needed to make energy and the building blocks of our cells
Patients report an increase in energy, mood, immunity and sleep. Patients have less anxiety, faster recovery from muscle fatigue and a release of their mental fog shortly after treatment.
IS IV THERAPY RIGHT FOR ME?
You bet! You will see the difference is the difference. IV therapy helps you feel your best, and Drip IV Therapies provides an experience that will have you coming back! Let us help you on your journey to optimal health. Click here to learn more and see what we have to offer.
CONTACT US
Do you need a boost? Get in touch with us today! Or ask about our Mobile Drip IV!
---

We are an a leader in the delivery of intravenous micro-nutrient therapies.
We Provide Effective Treatment and IV nutrition therapies for NAD+, Energy Boost, Hydration, Immunity, Performance & Recovery and Hangover Remedy.