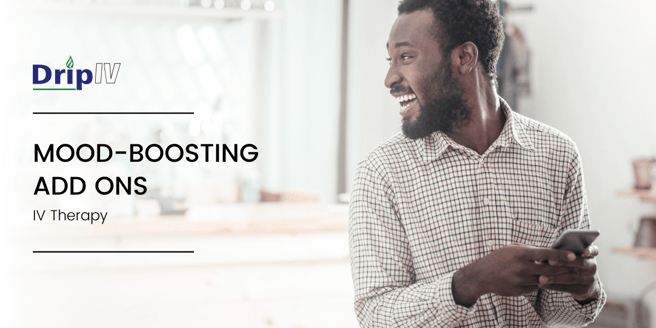 Feeling down? Lack of energy? Stressed out? Too much traveling? You're not alone. A lot of people feel this way, especially during the winter months. But don't worry, there is a solution! Mood-boosting IV therapy add-ons can help elevate your spirits and make you feel more like yourself again. In this blog post, we will discuss what IV therapy is and how it can help improve your mood. So if you're feeling down and need a little pick-me-up, keep reading!
BEnefits of IV therapy
IV therapy is a treatment that involves inserting an intravenous (IV) needle into your vein. The IV then provides you with nutrients and vitamins from the IV bag right into your bloodstream, which allows for a higher concentration of nutrients to be delivered to the tissues than oral supplementation.
People use IV therapy because it is a safe, non-invasive, and effective at providing relief from fatigue, hangovers or boosting your immunity, mood, hydration and energy!
Some of our most popular mood enhancing drips are


Mood Boosting IV therapy Add ons
1. Vitamin B12
Vitamin B12, also known as cobalamin, is a water-soluble vitamin involved in metabolism. This vitamin plays an essential role in red blood cell formation, cell metabolism, nerve function and the production of DNA, overall keeping the nervous system healthy.

B12 is mainly found in animal products such as beef, poultry, fish, eggs and milk. A B12 deficiency can cause anemia, fatigue, confusion and mood swings.

With B12 vitamin add ons provided directly into your bloodstream, you can improve the function of neurotransmitters in the brain which results in better mood regulation and improved serotonin levels.

The Office of Dietary Supplements at the National Institutes of Health recommends that adults get 2.4 mcg of vitamin B12 daily; pregnant women should get 2.6 mcg and breastfeeding women should have 2.8 mcg every day.

Below are the benefits of vitamin B12:
Assists in the production of DNA and red blood cells
Creates energy by helping to metabolize food
Decreases feelings of depression or anxiety (Check out our friends at NeuroMend)
Plays a role in healthy brain function
Supports the central nervous system
Stabilizes mood
Enhances the immune system
Lowers levels of homocysteine in the blood; this compound has been linked to a higher risk of dementia, heart attack, and stroke.
2. Folic Acid
Folic acid, also known as folate, is an essential nutrient that plays an important role in many cell functions. Folic acid is also useful in the prevention of atherosclerosis, cell development, cell replication, hair growth, and nail growth. Folic acid, a B9 vitamin, also helps prevent birth defects of the brain and spine, such as spina bifida.

Some foods contain these nutrients, including leafy vegetables, asparagus, certain fruits, and more. However, some foods actually have folic acid added to them as required by federal law, such as cold cereals, flour, breads, pasta, etc.

Adding folic acid to your drip IV therapy can help to treat deficiencies and prevent anemia due to poor diet, alcoholism, GI diseases and more. Folic acid injections and intravenous therapy help in the replacement of low folic acid levels.

The benefits of folic acid:
Healthy cell growth
Improves male fertility
Corrects loss of hemoglobin and deficiency in iron and folic acid levels.
Reduces the chances of heart attacks and heart disease
Protects against colon cancer, cervical cancer, and pancreatic cancer
Enhances mood regulation and treats depression. Proper brain functioning requires adequate folic acid levels.
Improves digestion
Reduces acne from eliminating toxins in your body
Aid the growth of hair (folic acid deficiency can lead to premature greying and hair loss)
Folic acid Injections can give you a natural, healthy, and moisturized glow
Folic acid reduces the signs of skin aging, improves the firmness of skin and helps in the production of healthy skin
Folic acid prevents type 2 diabetes by reducing fat content in the blood
Helps prevent birth defects
3. Pyridoxine B6 (Vitamin B6)
Pyridoxine, pyridoxal, and pyridoxamine are all forms of vitamin B6. Without vitamin B6, our bodies can't produce the hormones that control proper function of sugars, fats, and proteins in the body. Vitamin B6 is an essential nutrient for the body's healthy functioning. It helps develop nerve cells, which help control everything from movement to emotion. Vitamin B6 also helps you maintain a healthy nervous and immune system.
Vitamin B6 is usually found in cereals and eggs, and often used in combination with other B vitamin products. People not only use vitamin B6 for preventing and treating vitamin B6 deficiency, but it is also used for other conditions such as PMS, depression, diabetes and much more.
Because vitamin B6 affects so many systems in our bodies, it has many benefits to our health:
Better circulation and helps maintain a normal amount of this amino acid in your blood
A stronger immune system
Less morning sickness during pregnancy
Your body needs vitamin B6 to make serotonin, a hormone that elevates your mood.
Helps with PMS symptoms
Maintaining healthy levels of vitamin B6 in your blood might also help reduce your chances of cancer
Better brain function
Vitamin D
Known as the "sunshine vitamin", Vitamin D, is an essential fat-soluble vitamin produced in your skin in response to sunlight. Even if you don't have a Vitamin D deficiency, adding Vitamin D to your IV therapy has plenty of added benefits especially during the winter months.

Vitamin D is a crucial component of the human body. It promotes immune system health, proper blood circulation, heart health as well as facilitating healthy bone growth and overall skeletal health. Vitamin D is also important for your digestive system. It helps the intestines absorb other essential vitamins and nutrients like calcium, magnesium, iron, and zinc.

Vitamin D can also regulate mood and reduce depression (just like how you feel after a day in the sun)! Overall, the 5 most important things Vitamin D IV therapy can help with are:

Fatigue
Boosted immunity

Better absorption of calcium
IV therapy for your mood
---

We are an a leader in the delivery of intravenous micro-nutrient therapies.
We Provide Effective Treatment and IV nutrition therapies for NAD+, Energy Boost, Hydration, Immunity, Performance & Recovery, Hangover Remedy, prevent COVID-19, and counter the effects of Long COVID and symptoms like it.