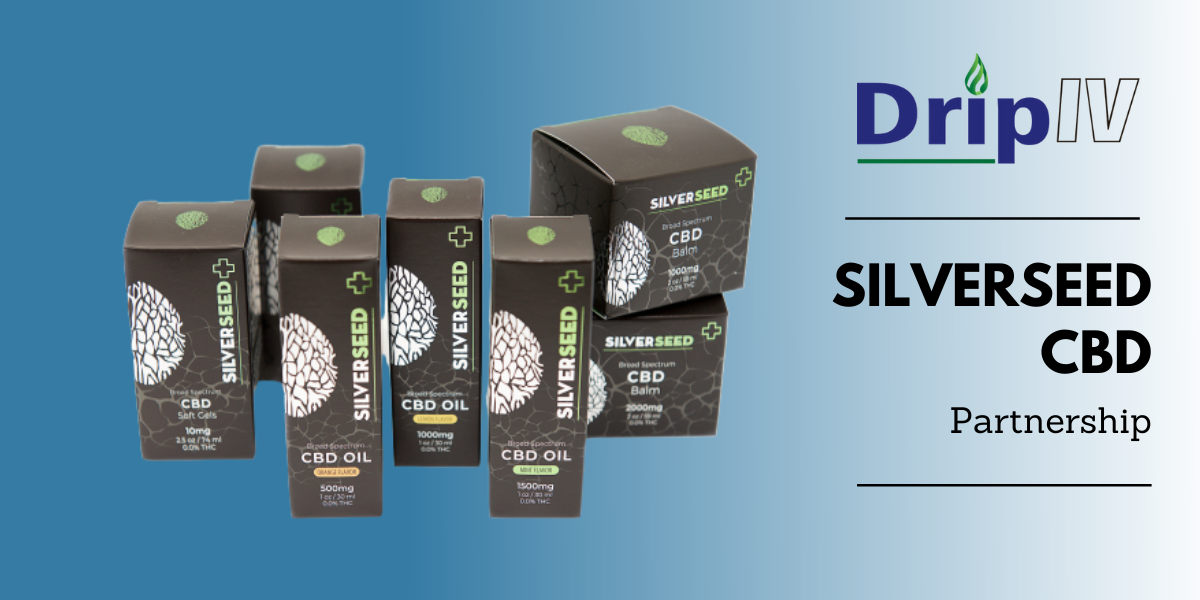 Did you hear? Silverseed CBD products are now available to purchase here at Drip IV Therapies! Keep reading to learn more about Silverseed and their products.
What is Silverseed?
Silverseed CBD is locally owned by our good friend Tyler LaFleur. Tyler is a functional medicine practitioner, performance coach, and the CEO of HPHI. Through HPHI, he offers health coaching and executive performance coaching, with the purpose of transforming individuals and organizations through facilitating the learning of the discipline and self-mastery required to reach their goals and achieve outstanding levels of health and performance. Tyler has been in the health and wellness coaching industry for twelve years and continues to study under the leadership of Dr. Lee Thayer.
What does Silverseed offer?
Silverseed provides customers access to a variety of 0.0% THC-free CBD oil products. Their products are thoroughly tested (four times throughout the entire process) in order to ensure they are bringing the purest product to the market.
The Big Benefit
Silverseed leads from a functional health approach and not solely pushing their product to the public and claiming that it is a cure all. They focus on understanding customer's problems, what they've tried in the past, and learning more about their lifestyle and health history. We like to understand our customer's problems and what they have tried in the past and know a little more about their lifestyle and health history.
Patient Relief Fund
Some customers can't afford proper lab testing or supplementation in order to help relieve or heal some of their chronic ailments, depression and has even been used by doctors to help with PTSD. Silverseed provides a patient relief fund that supports those customers. The health expertise of HPHI is funded by Silverseed so that they can further investigate the customer's ailments and help support them by getting to the root cause of their health issues from a functional medicine approach.
Silverseed sets aside a certain percentage of profits from each sale so that patients looking for more answers to their health problems can receive the proper testing or better education of lifestyle choices through HPHI's services.
What illnesses can Silverseed help?
Most customers are looking to try CBD to help with sleep, pain, anxiety, depression, joint discomfort, or inflammation. Silverseed serves anyone looking to discover whether CBD is the right product for them, given their symptoms or health problems in their current season of life.
For more information, visit www.silverseedcbd.com or email Tyler at info@hphi.life.
Drip and Shop
What are you waiting for? Come shop Silverseed CBD products and get your drip on! Drip IV Therapies provides an experience like none other! Let us help you on your journey to optimizing your overall health and wellness.
Are you a medicinal smoker? See here for the cheapest life insurance rates for people who use marijuana both medicinally and recreationally.
Make sure to use our code DRIPIV at the checkout to receive a 5% discount on your Silverseed CBD purchase!
Whether you're looking to reduce stress, relieve anxiety, boost immunity, relieve illness, speed up athletic recovery, enhance your mood or even cure a hangover, IV therapy helps you feel your best! Let us help you on your journey to optimal health.
Learn More
Contact us to learn more about what we have to offer.


We are an a leader in the delivery of intravenous micro-nutrient therapies.
We Provide Effective Treatment and IV nutrition therapies for NAD+, Energy Boost, Hydration, Immunity, Performance & Recovery and Hangover Remedy.