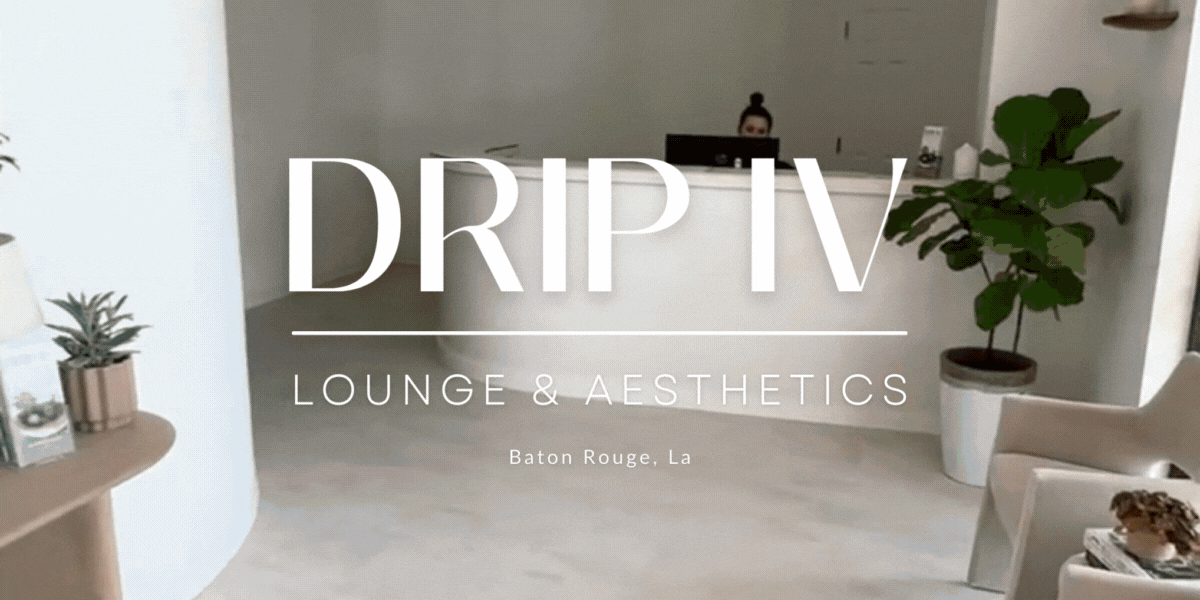 Drip IV Therapies in Lafayette, Louisiana has now expanded to our services to Baton Rouge! Check out our brand new (and beautiful) Drip IV Lounge & Aesthetics!
How it Started
As a learning organization, we are continuously searching for options that give our clients the support they need to support their overall health.
After opening NeuroMend Infusion Center, Lafayette's only ketamine clinic, we learned that most (if not all) of our clients have used, or are currently using, antidepressants which can lead to their bodies becoming rapidly depleted of important micro-nutrients.
In a better effort to provide optimal care for the clients of NeuroMend, Drip IV Therapies was founded by our team of medical professionals and medical business entrepreneurs with a passion for providing traditional and "out of the box" non-traditional treatments.

How It's Going
Drip IV Therapies has decided to expand our micro-nutrient community to the Baton Rouge area!
Our new clinic, Drip IV Lounge & Aesthetics, has opened in Perkins Rowe in Baton Rouge, Louisiana. Aside from our sister store's new name, we are adopting a brand new look and feel, in addition to more service offerings!
7731 Perkins Rd STE 135, Baton Rouge, LA 70810

The Clinic
The vision of Drip IV Lounge & Aesthetics was imagined to be more modern and comfortable so our clients felt good when coming in to receive their drips. The brand new store, along with its surrounding neighbors in Perkins Rowe, gives you an elevated aesthetic in comparison to what a "clinic" should feel like.
Our Services
Drip IV Lounge & Aesthetics is bringing our curated specialty drips to Baton Rouge, along with a few other additional services that we are super excited about!
IV THerapy
Deficiencies in many micro-nutrients lead to, increased fatigue, less than optimal mental clarity, or physical output. Through our research, it was learned that one of the best ways, if not the best way to support these deficiencies is to add vitamins and other micro-nutrients to IV therapy.
Our IV Therapy drips include (click here to view all):
Luxe Beauty
Weight Loss
PMS
Brainstorm
Vitamin C
Drip IV Lounge & Aesthetics also offers drip add-ons, injections and customized drips. View our IV Therapy FAQ for more information.
Aesthetics
Drip IV Lounge & Aesthetics is now offering aesthetic services to our clientele, making our Baton Rouge location an all-in-one, full service health and wellness clinic.
BOTOX
Drip IV Lounge & Aesthetics is a member of the AMSPA (American Med Spa Association) and our clinician is trained and certified by AMET (Aesthetic Medical Educators Training).
Botox offers an innovative way to combat the signs of aging by preventing expression lines and smoothing out existing wrinkles. With its muscle-relaxing properties, it can also help create a longer lasting effect over time that promotes young looking skin so you can keep your youthful glow.
ZO Skin Health
Coming soon to Drip IV Lounge & Aesthetics is ZO® Skin Health, a medical-grade skin care line.
At ZO® Skin Health, created by world-renowned dermatologist Dr. Zein Obagi, provides comprehensive solutions for creating and maintaining healthy skin for anyone regardless of age, ethnicity, unique skin condition or skin type. ZO® corrects sun damage, pigmentation, prevents and protects against future damage.
Hormone Therapy
Also coming soon to Drip IV Baton Rouge will be our Hormone Therapy services for both men and women.
Hormone therapy can be a helpful treatment for men with unnaturally low levels of testosterone. Hormone replacement therapy for women contains female hormones to replace the estrogen that your body stops making during menopause.
Stay tuned for more updates on our additional aesthetic services!
Our App
We're making healthy lifestyles even easier. Our new app will allow you to book appointments, save your favorite services, and more!
Keep up with Drip IV Therapies & Drip IV Lounge & Aesthetics for the launch of our new app - coming soon!
ask Drip IV LOunge & Aesthetics
Our healthcare specialists customize your treatment plans, tailoring your health and wellness specifically to you.

Ask us about IV therapy and aesthetic services!
---

Drip IV Therapies is now offering our micro-nutrient and IV therapy services in Baton Rouge, La. Our therapies include NAD+, Energy, Hydration, Immunity, Performance & Recovery, Hangover drips and aesthetic services like BOTOX and ZO Skin Health.
Drip IV Lounge & Aesthetics is located at 7731 Perkins Rd STE 135, Baton Rouge, LA 70810.
---

We are a leader in the delivery of intravenous micro-nutrient therapies.
We Provide Effective Treatment and IV nutrition therapies for NAD+, Energy Boost, Hydration, Immunity, Performance & Recovery, Hangover Remedy, prevent COVID-19, and counter the effects of Long COVID and symptoms like it.