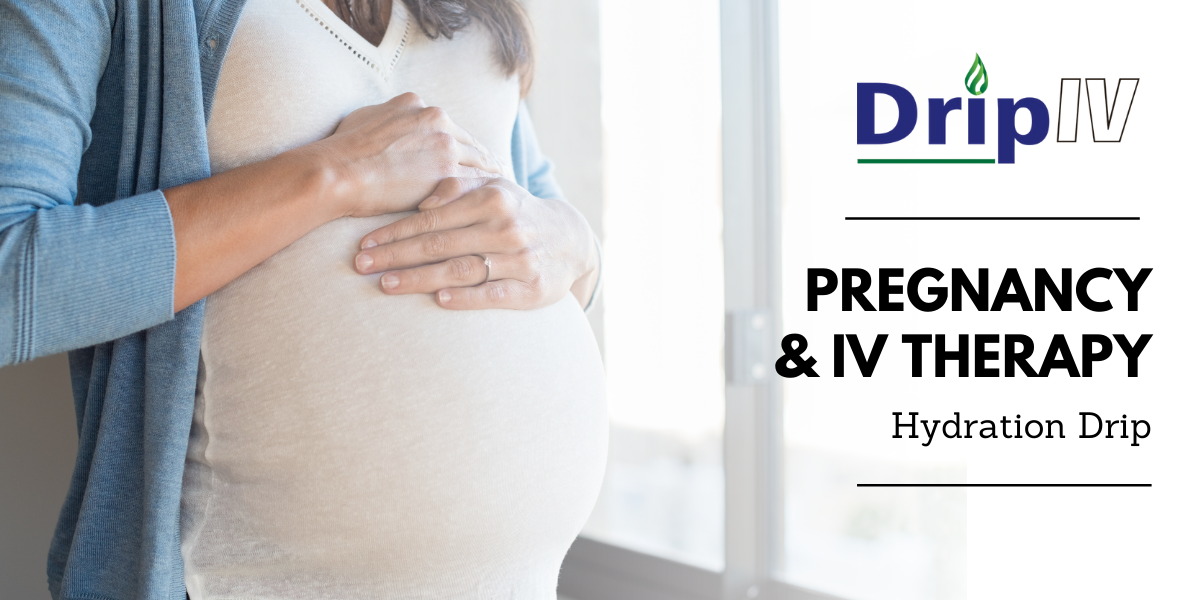 Morning Sickness? Find it challenging to drink enough water daily? Dehydrated? It's time to feel better! There's many benefits to staying adequately hydrated during pregnancy. At Drip IV, we've got just what you need to do so. Keep reading to find out how to feel your best while pregnant.It's recommended that you drink 8 to 12 glasses of water daily. Let's face it, sometimes it's a challenge to stay hydrated via the recommended daily dose, whether you're in healthcare, oil and gas, life insurance, mortgage lending or marketing. That's where Drip IV comes in.
New to drip IV therapy?
What is it? IV Nutrition Therapy is an intravenous treatment where nutrients are infused directly into the bloodstream. They are very powerful and have great success in clients who have issues with oral administration, including absorption issues, stomach upset, and loss of potency.
For more general information, take a look at our page to find out everything you need to know about Drip IV Therapy.
Drip IV Therapy offers Saline IV drips for hydration during pregnancy!
Morning Sickness
Morning sickness is a very common pregnancy symptom in the first trimester typically from around week 6 to anywhere around 18 weeks pregnant. While, this is typically a normal symptom, some experience more severe cases than others. If you're someone who has a persistent case of morning sickness occurring several times weekly or even daily, you are more than likely to become dehydrated.
Dehydration can not only interfere with the health of a mother, but also with the growth of the baby.
With infusion therapy, you'll be provided with hydration, vitamins, and nutrients that support a healthy pregnancy. IV therapy is safe, quick, and effective. In a short time, you will receive the nutrients your body needs to continue growing a little human and reverse the effects of dehydration.
What's in our OBGYN Drip IV Therapy
This drip is packed with electrolytes, vitamin C, and B Complex. Our Liquid IV for Pregnancy is what we also call our Hydration Drip helps to balance your body with not only fluids but electrolytes and antioxidants to enhance your physical and mental performance. The hydration received in just one OBGYN drip, is equivalent to the hydration received drinking 1 - 2 gallons of water.

The Benefits:
liquid iv pregnancy
It's important to stay hydrated, especially in the South Louisiana summer heat. A few of the benefits of staying hydrated during your pregnancy are:

Mitigates morning sickness

Minimizes Nausea

Reduced swelling

Keeps your body temperature cooler

Softens Skin

Decreases constipation

Decreases risk of urinary tract infections
Decreases risk of preterm labor and preterm birth
Wait no longer! Take advantage of the benefits you'll receive with Drip IV Therapies. Let us help you feel your best while you grow your family.
Book an appointment
Get in touch with us or book your appointment online today! We can't wait to see you.
---
ABOUT DRIP IV

We are a leader in the delivery of intravenous micro-nutrient therapies.
We Provide Effective Treatment and IV nutrition therapies for NAD+, Energy Boost, Hydration, Immunity, Performance & Recovery, and Hangover Remedy.